Vegetable Washing Machine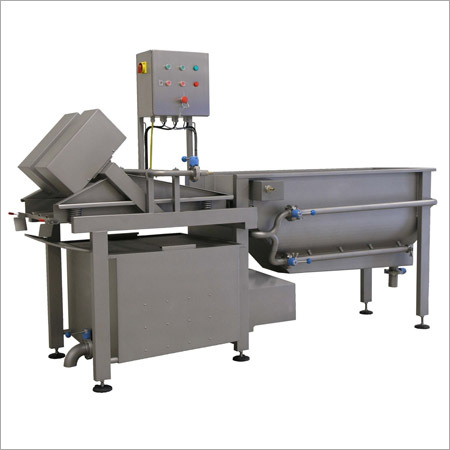 Vegetable Washing Machine
Product Description
Vegetable Washing Machine CAP-10 KG TO 500 KG
Vegetable/Fruit/Washer : ( SKEC-2500k-3000kg )
Structure of Machine :

The machine is designed for manual feeding of the vegetable in the hopper and removal of material from the chain thru chute in the container kept in front machine under the chute.
The Machine is supported by ss section with adjustable ball feet & is castor wheel mounted.
Mechanism of Machine :

Hollo Gear Box with Motor for conveyor Drive.
Frequency drive for conveyor drive motor.
Drive shaft with sprocket fitted with bearing nylon roller.
Main control panel.
Starter for belower, conveyor drive, water pump, spray water pump.
Outer container for water Along with Drain And Inner Container to carry Fruit And Vegetable Inner container Nozzles for bubbling to enhance the fruit/vegetable washing.
Air belower mounted on the top Frame to below air in washing Chamber through the Nozzle Divide In two Headers.
Water tank with submersible pump to The water in the inner chamber for fruit and vegetable movement forwarding direction and helps in washing.
Inclined And straight chain conveyor with SS clits to lift the fruit & vegetable from inner chamber.
Inclined conveyor with clits and fresh water spray to wash vegetable.
Straight conveyor after inclined conveyor with air drying nozzles to dry wet fruit.
Compressed air to be supplied by client the drying Nozzle Header moving the fruit & vegetable.
Leaf capacity :1250 kg/hr
Vegetable /Fruit Capacity : 2500-2800
Water circulation Pump: 1.5HP
Spray pump : 0.5 HP
Size: 12'x3'x5'
Contact Us
Plot No-68-69, Block-b, Street No-7, Nanhe Park, Matiala Industrial Area, New Delhi, Delhi, 110059, India
Phone :+918045800696